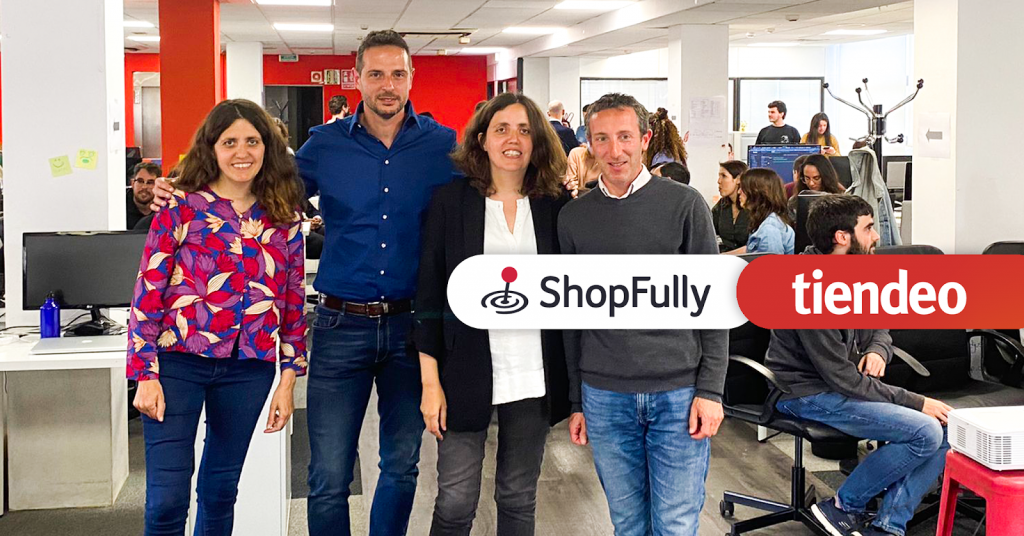 With 45 million active users and over 400 partners among top retailers and brands across 12 countries, European tech company ShopFully aims at reinventing local shopping globally
Tiendeo, a Spanish company based in Barcelona and one of the leading European Drive to Store players, is joining ShopFully.
This acquisition is in line with ShopFully's strategy to scale up its platform and accelerate its expansion.
This transaction results in the creation of a combined group present in 12 countries, with a network of 45 million active users and over 400 partners among the major retailers and best-known brands globally.
ShopFully and Tiendeo, two leading technology companies in Drive To Store, announced today the completion of a transaction to build the European champion and one of the leading international players in the sector.
ShopFully, the Italian tech company founded in 2012 that connects millions of consumers around the world with the stores around them, has acquired Tiendeo, founded in 2011 in Barcelona, specialized in the digitization of catalogs and brochures.
The acquisition by ShopFully of 100% of the Spanish company results in the creation of a combined group with teams in 12 countries, a network of 45 million active users and over 400 partners among the major retailers and best-known brands globally.
The strengthened group will therefore be able to provide the market with best-in-class technology and products, via a common technological innovation platform at the service of more customers in Europe and worldwide.
This acquisition illustrates ShopFully's dynamic expansion strategy to strengthen its leading position in Drive To Store space, as it has already demonstrated with the successful integration of PromoQui and VolantinoFacile in 2020 in Italy.
ShopFully's ambition to scale-up its platform and accelerate its expansion takes place in a context of profound transformation of shopping and retail. While 80% of sales take place in stores and 70% of retail growth in the next few years is expected to come from physical retail, 75% of consumer goods purchasing decisions in Europe are made by consumers through digital channels*.
ShopFully's mission fills this gap between digital decisions and in-store purchases, connecting millions of consumers around the world with local stores, thus allowing consumers to save time and money while retailers and brands boost store traffic by capturing online demand. The goal is to move away from legacy marketing techniques mainly based on paper, which represent a €12.6 billion spend annually, to a digital model, leading to a significant economic advantages and a positive impact on the environment**.
On the back of supportive market trends and a differentiated offering, ShopFully has seen healthy profitable growth in recent years, both organically and through selected acquisitions. Our mission is to connect more and more consumers in Europe and throughout the world with their local shops through our proprietary technology. Through the acquisition of Tiendeo, we accelerate our journey with the objective of creating even greater value for consumers and partners.

comments Stefano Portu, CEO and Founder of ShopFully
We are delighted to join the ShopFully group, which is establishing itself as the Drive to Store leader in Europe. Joining forces will allow us to create new synergies between our businesses, pooling resources and know-how to develop increasingly innovative solutions to be proposed to the markets in which we operate.

comments Eva Martìn Co-Founder of Tiendeo
Following the transaction, Tiendeo's Founders Eva Martín, Jonathan Lemberger and Maria Martín will hold leadership roles within the ShopFully senior management team, joining a team of over 370 professionals of almost 30 different nationalities.
ShopFully has been advised in this transaction by the law firm Orrick. The Orrick team that assisted ShopFully worked in coordination with Davide D'Alena, VP International at ShopFully, and Maria Foti, CFO of ShopFully.
ShopFully
ShopFully is the leading European tech company in Drive to Store in terms of number of Countries, active users and partners.
Founded by two Italian entrepreneurs with a twenty-year background in the digital world, the company's mission is to reinvent local shopping. With four proprietary marketplaces (DoveConviene, PromoQui, VolantinoFacile and Tiendeo) and its own AI-based hyperlocal marketing platform (HI!), ShopFully is now able to globally connect millions of consumers to thousands of stores in their vicinity.
*Source: "Digital advertising evolution within retail business", PwC, 2022
**Source: Osservatorio Multicanalità (2021), Politecnico di Milano, NielsenIQ